Vijay Boyapati, a Seattle-based software engineer who had previously worked as a full-time developer at Google, believes the cryptocurrency market is currently in a boring phase. But, he says this bear cycle is crucial for the long-term growth of bitcoin, as companies tend to lead real innovation when the market is stable.
The demand for cryptocurrencies like bitcoin and Ethereum has subsided since December 2017, when the bitcoin price peaked at $19,000 globally, and $24,000 in South Korea, due to the country's premium rates for cryptocurrencies created by a lack of supply and consistently large demand.
The daily trading volume of bitcoin has declined 70 percent, as did its price. In February, the price of bitcoin declined by 72 percent as it bottomed out at $6,000, recording the third worst correction in its history. The daily transaction volume of bitcoin has also halved since then, as shown below by Blockchain, the second most widely utilized bitcoin wallet behind Coinbase.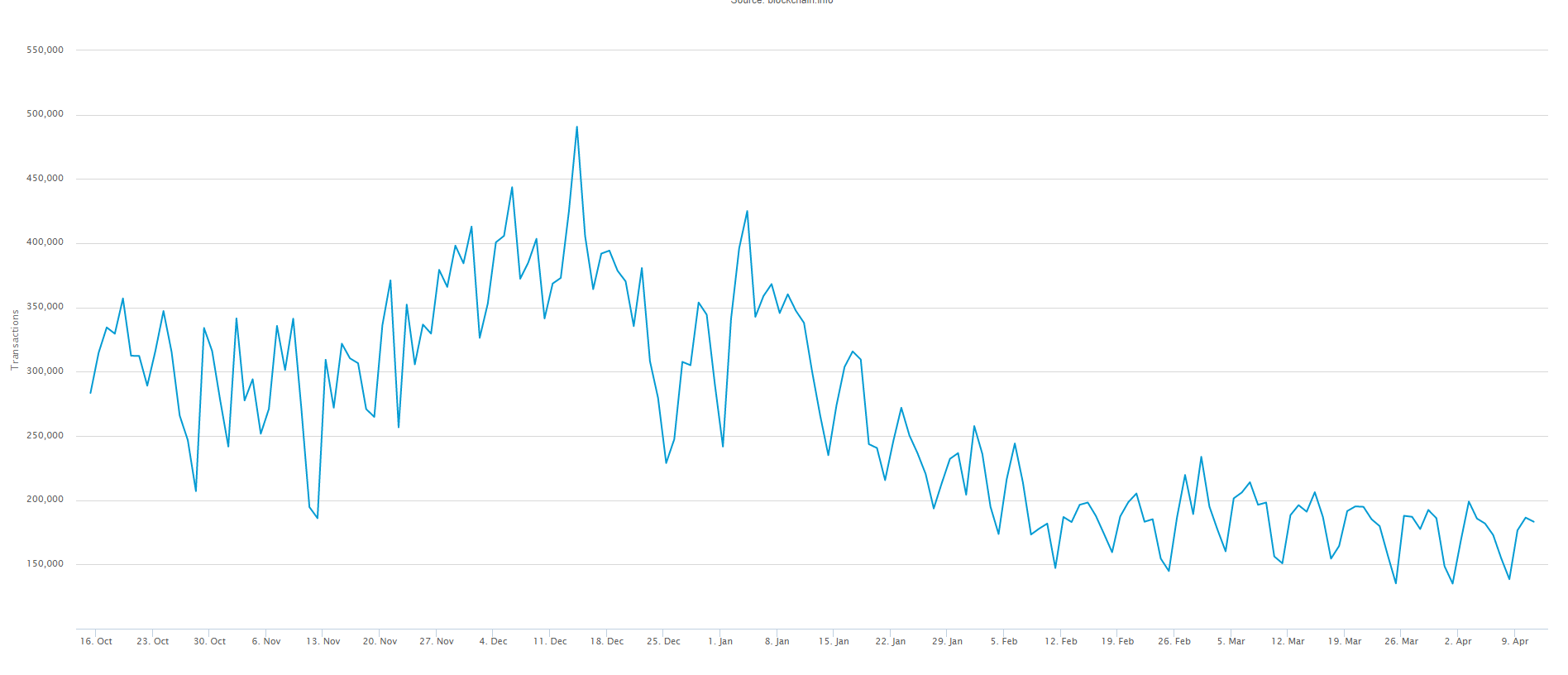 "All the hype is gone. I think right now we're in the boring phase. Once the crescendo happens, it usually doesn't come back immediately. That's when the most value is created," said Boyapati. He further emphasized that it is during this phase developers for blockchain projects and core protocols of major cryptocurrencies will begin to focus on leading actual developments, without being concerned about the market.
Boyapati stated that the bear cycle following a massive bull run often leads to the introduction of innovative technological advancements that can "fuel the next boom."
In June of 2017, Ethereum founder Vitalik Buterin stated that core developers of public blockchains like Ethereum feel enormous pressure due to the anticipation of investors and community towards a better, improved, and sophisticated blockchain platform that can justify its valuation. During this period, the price of Ethereum's native cryptocurrency Ether was in the $350 range, after recording a 35-fold increase from the beginning of the year, when Ether was valued at $10.
"I think the success that Ethereum has seen is definitely putting a lot of pressure on the core developers of the actual protocol of the platform to step up and deliver on the admittedly high expectations that the community has of us. That's an expectation that we're eager to see if we can match," Buterin said.
Currently, the cryptocurrency market is relatively stable and no major price movements are being made on both the upside and downside. On April 12, a sudden 13 percent increase in the bitcoin price that led the valuation of the cryptocurrency market to increase from $280 billion to $310 billion took investors by surprise, given the several month-long bear market bitcoin had dealt with from January to April.
In a period like this, wherein the expectations from investors and traders are low in terms of price movement and volume, developers can fully focus on the development and creation of innovative solutions that can significantly improve public blockchains and decentralized cryptocurrencies in terms of scaling, privacy, and efficiency, specifically for networks like Ethereum that have to support decentralized applications with millions of users on a regular basis.