Over the past several months, the South Korean cryptocurrency industry and financial authorities have been anticipating the entrance of the country's largest internet conglomerate Kakao to the cryptocurrency market.
Entrance to Cryptocurrency Market
Unconfirmed rumors about Kakao's potential initial coin offering (ICO) were released, and the South Korean government responded to them by emphasizing that if Kakao does decide to run an ICO, it would have to be conducted within the country, in spite of the current domestic ICO ban.
Kakao operates KakaoTalk, KakaoPay, KakaoStory, KakaoTaxi, and KakaoStock, which remain as the biggest messaging, payment, social media, ride hailing, and online stock brokerage applications in the country. Most of the applications operated by Kakao boast a 90 percent market share over their respective industries, and both KakaoTalk and KakaoPay are used by approximately 95 percent of mobile users in the country.
Earlier this month, Kakao hinted the possibility of integrating major cryptocurrencies like bitcoin and Ethereum for its hundreds of millions of users and more than 10,000 merchants in South Korea. Although the population of South Korea is just over 51 million, KakaoTalk and KakaoStory have many users outside of the country, particularly in Japan.
Several analysts anticipated that the integration of cryptocurrencies by Kakao would allow native app users to send, receive, store, and trade cryptocurrencies with ease, especially on apps like KakaoPay and KakaoTaxi.
"Ground X, Kakao's newly established subsidiary specializing in blockchain, will explore the technology with the goal of taking the technological leadership in Asia. To do so, Ground X will open its blockchain platform to the public, explore ways to leverage R&D and investment to ensure further growth, and offer new blockchain-based services combined with Kakao's existing services," Joh Su-yong, co-CEO at Kakao, told Yonhap.
By now, investors and traders in the global cryptocurrency market are aware of the massive demand towards cryptocurrencies in South Korea. Throughout February and March, such demand was evident in the meteoric rise in the value of ICON and Storm, two cryptocurrencies that experienced nearly 200 percent increase in value in a span of days due to the listing of Bithumb and Upbit, the country's largest cryptocurrency exchanges.
The integration of cryptocurrencies by Kakao, the most influential internet company in the country, would likely trigger a wave of interest towards cryptocurrencies that matches the initial surge in demand for cryptocurrencies created by the integration of bitcoin by Bic Camera, Japan's leading retailer.
The CEO at Kakao added that the company's newly established focus on the cryptocurrency market will play a vital role in its expansion plan throughout Asia.
"Now at Kakao 3.0, we will continue to explore our growth potential by seamlessly integrating services among Kakao companies and actively building presence in the global market. Armed with the quality digital content, Kakao will expand beyond its strategic market, Japan, into China and Southeast Asia," added Joh.
Engagement With Public Figures
Already, Kakao has invited some of the most well recognized developers and figures within the cryptocurrency space to its headquarters, including Ethereum co-creator and Cardano founder Charles Hoskinson.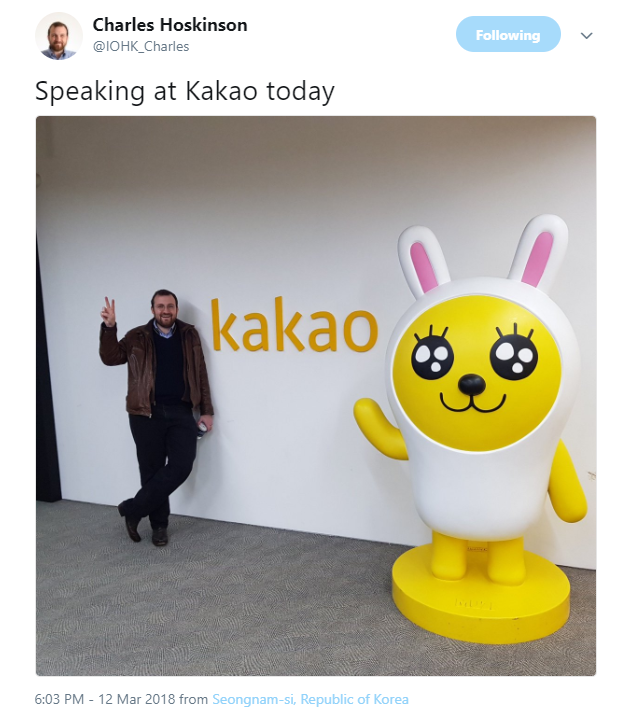 On March 12, Hoskinson revealed that he presented a talk at Kakao headquarters in South Korea, signifying the company's growing interests towards the rapidly growing market.